BOOK BUNDLE
Donation of $29.99
Receive both of Joanne Moody's books.
Jesus wants to work through you to supernaturally touch the people around you. From your local grocery store to your workplace, from your school to your favorite coffee shop, it's time to begin releasing miracles everywhere you go! Walk with Joanne through her healing journey while learning more about your identity in Jesus and the plans He has for your life.
For orders of 6 or more, please email Heather@agapefreedomfighters.org for a shipping quote.
MINUTE BY MINUTE
Donation of $14.99
Looking at a decade's worth of chronic pain, a promise from God helps Joanne stand firm until He ultimately heals her.
Minute by Minute recounts the reality of consciously choosing to trust God in the midst of raw agony. Just when it seems that hope has vanished, God sweeps in and supernaturally heals Joanne in a moment. Her story is one of faith, hope, and triumphant victory over death.
Once a trained athlete in peak condition, Joanne Moody suffered a post-pregnancy injury that sidelined her for the next 14 years. Not one to give up easily, Joanne fought to find an answer to her pain year after year. Countless doctors attempted to treat her until, finally, one recommended a surgeon in France. Joanne and her sisters made the trek only to stare death in the face. At the moment of her greatest pain, God reached down and gave her a promise. Minute by Minute will keep you turning the pages as you join Joanne on her journey through a valley of pain and her eventual arrival at the pinnacle of faith and love.
For orders of 6 or more, please email Heather@agapefreedomfighters.org for a shipping quote.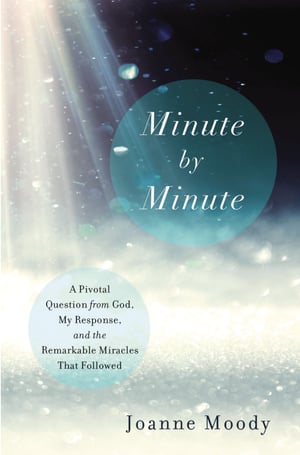 everyday supernatural
Donation of $19.99
Experience miracles wherever you go... even in unexpected places!
Donations will also come with digital access to an exclusive teaching from Joanne Moody!
Is your heart crying out for more? Do you long to experience the supernatural? Do you want to live a life marked by Kingdom adventure? Then join Joanne Moody for a life-changing faith journey in Everyday Supernatural!
In Everyday Supernatural, Joanne Moody serves up a spiritual feast of captivating testimonies, practical teaching, and powerful activations. You will walk away emboldened with the knowledge that God is intent on using everyday people to perform His miracles and reveal His Son to the world!
For orders of 6 or more, please email Heather@agapefreedomfighters.org for a shipping quote.
Foreword from Kathie Lee Gifford
"I am thrilled that you are about to embark on an extraordinary journey into deeper truths that dwell in the spiritual realms. Take her hand. You can trust her."
Foreword from Randy Clark
"If you want a quick, easy read that is extremely inspiring, and encouraging, you will enjoy Everyday Supernatural. If you would like to live a more abundant, victorious, supernatural life that brings joy, meaning, purpose, and humbling experiences of the Almighty God, Everyday Supernatural is for you."